A large passenger car collided with three trucks in Inner Mongolia caught fire: the passenger car was burned into an empty shell, killing six people
来源: 本站
时间:2019年07月04日
Author:
Source

site:

Site
Time: July 4, 2019
Video link:
http://v.qq.com/x/page/f0892tmdox6.html
At 16:40 on June 30, 2019, a traffic accident occurred at 230 kilometers of the provincial highway 203. When the black M569G truck traveling from Ulanhot to Aershan went beyond the large passenger car of Hubei BLY899 in the same direction, it collided with the heavy dump truck of Ji B5955D coming in the opposite direction and caught fire. Now it has caused 6 People were killed and some were injured.
The accident-related situation is under investigation and processing.
Traffic Patrol Brigade, Public Security Bureau of Aershan City
June 30, 2019
In the afternoon of June 30, videos of several buses colliding with a truck that caught fire appeared in multiple WeChat groups. According to the video, at 6 pm on the 30th, an accident occurred near Bailang Town, Aershan City, Inner Mongolia Autonomous Region. A tourist bus collided with a large truck pulling sand and a vehicle caught fire.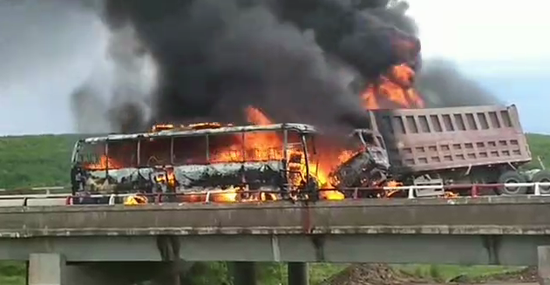 A local tourism practitioner told a reporter from Beiqing Daily that the incident may be at S203 Provincial Highway in Bailang Town. "I have a friend who saw this car on the road and should have a foreign license. He also told me so much at the time. People's Congress came all the way, "he said," but we don't know if there were any injuries. "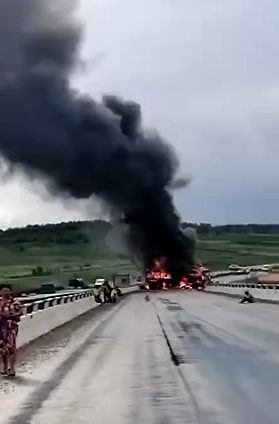 On the evening of June 30, a reporter from Beiqing Daily learned from the staff of the Traffic Police Detachment of the Xing'an League in Inner Mongolia that around 6 pm that night, a bus and truck collision occurred in Aershan. The accident occurred in Aershan Bailang Town On the S203 Provincial Highway within the jurisdiction, information such as the license plate number of the vehicle, the number of drivers and passengers carried, and whether there were any injuries or injuries were still under investigation.